Product Description
Professional router cnc laser
Laser Engraving Machine Key Features:
1>The Laser tube adopts Compulsive Water Cooling System, Water Chiller Can Control the temperature Automatically, It`s Alarm Device will Alarm if Short of Water, thus ensure laser tube a longer service time and high stability.
2> High Compatibility, Applicable for the Models Like PLT,BMP,DXF,DST,T100,etc.
3> LCD Control Panel in English
4>Equipped with Hydraulic protection,Exhaust dust and smoke device,the huff protection.
5>Optional Up & down adjustable worktable can Engrave and Cut Different Height Materials.
6>Comply With [CE & ISO] Certificates
7>Advanced DSP Digital Control technology and Integrated Frame Structure to ensure Work Stability.
8>Original Imported Straight Linear Guide Rail X. Y axis Makes the Machine Running on a high Speed and Precision.
9>Imported Reflected Lens and II-VI ZnSe focus lensin the Optical System Can greatly Reduce the heat loss.
10>High Quality CO2 Glass Sealed Laser tube Provides Strong Stable Laser beam mode and Longer Service Life.
cnc laser router :
#
Working area : 600*900mm
#Laser power : 40/60W /80W (CO2 glass laser tube )
#Taiwan Hiwin square rails
#Lense and mirror from Singapore
#Leadshine motor and drivers
#Belts transportation (higher accuracy )
#Water pump
#Air pump
#red light
#Leetro control system (best in china)
#blade table
#In the casing surface spray treatment, stainless steel box cover .
#Tools box
Parameter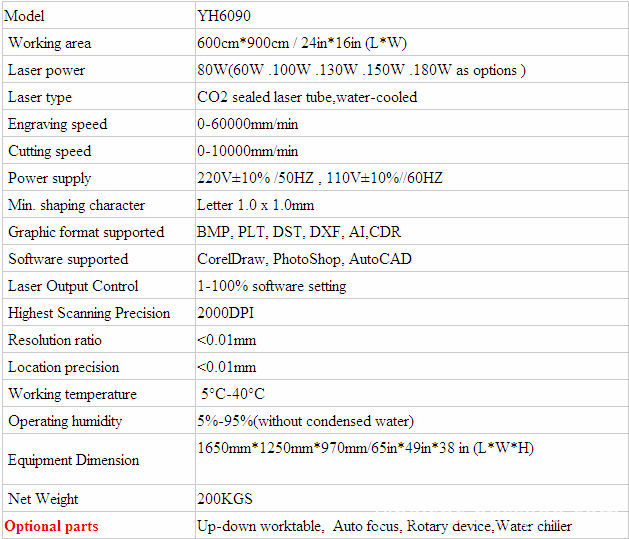 Product line:
Material

Cut

Engrave

Acrylic

, Plexiglass, Pmma, Perspex, Organic board, Double color plate

Yes

Yes

Plastic

, PP, PET, PC, PMMA, PS, PES, PA, Plastic Foils&Films, Polycarbonate, polyester or polyimide membrane keyboards

Yes

Yes

Wood

, Bamboo, Veneer, MDF, Balsa wood, Plywood

Yes

Yes

Leather

, Pig leather, Cow Leather, Sheep leather

Yes

Yes

Textile

, cotton, silk, felt, lace, synthetic & technical textiles, aramid, polyester, fleece

Yes

Yes

Foam & Filter, Mats Polyester (PES), Polyethylene (PE), Polyurethane (PUR)
Neopren®

Yes

Yes

Paper

, Cardboard, Chipboard, Press Board

Yes

Yes

Stone

, Ceramic, Granite, Marble, Natural stone, Pebble stone, Slate

No

Yes

Rubber stamps, Synthetic & Silicone Rubber, Natural rubber, Microporous foam
Silicone rubber, Synthetic rubber

Yes

Yes

Glass

, Pressed glass, Float glass, Crystal glass, Mirror glass

No

Yes