Product Description
Mini CNC Router YH6090
The CNC YH6090 was based on the structure of CNC YH1325, it has bigger table size 90x90cm and we have implemented many features to make the unit more stable and precise for milling and engraving.

Some major changes are:
1) Size frames thickness was increased so that it is more rigid,
2) Size frames shape was changed to account for the center of gravity of the spindle weight, to achieve stable z-axis movement,
3) Y-axis chain rail was installed to the bottom of the table, to avoid from dust and better protection.
Please contact us before purchase
We will calculate the DHL ship fee to your address.
*BRAND NEW CNC ROUTER
*NEW SPINDLE & STEPPER MOTOR
*WITH 6 LIMIT SWITCHES INSTALLED
*80MM Z Axis, SUITABLE FOR LARGE OBJECT
*3A HIGH CURRENT STEPPING MOTOR, HIGH SPEED AND STABILITY
YH6090 MINI CNC ROUTER is suitable for Industry, Technology Research, Advertising Design, Arts Creation, Teaching, Student Project and Hobby Purposes.
MINI YH6090 is a high precision CNC machine and designd for processing Industrial or Hobby Prototype Building, Building Model Making, PCB, Adverstising Signs, Artwork, Crafts, Aircraft Models,RC Model parts,etc. Small size CNC can let you work in home or office.+
1 Year Warranty for Mechanical Parts
Specification

Effective Traveling Range

600(X) X 600(Y) X80(Z) mm

Machine Dimension

610(X)*640(Y)*440(Z) mm

Working Table3

600(X)*6000(Y)*80(Z) mm

Frame Material

Aluminum Alloy 6061/ 6063

Driving Core

X: 1605 ball screws

Y: 1605 ball screws

Z: 1605 ball screws

Sliding Core

X: Dia. 16mm

Y: Dia. 16mm

Z: Dia. 12mm

Limit Switch

X, Y, Z (2 switch per axis)

Stepping Motor

57 2 phase 3A 1.8 Degree (Brand New)

Spindle Motor

300W High Speed motor (Brand New)

Principal Axis Collet

ER11 / 3.175mm

Spindle Speed

PWM up to 12000RPM

Repeatability

0.05mm

Max No Loading speed (X, Y, Z)

2500mm / min

Spindle Precision (Beat error)

0.01 - 0.04mm

Carving Code

G code/TAB files/nc file/NCC files

PC connection

Parallel Port

OS

Win2000 XP (Support Mach2 Mach3)

Carving Speed

Depend on material

Weight5

50KG

CNC Controller

Input

110V to 220V (Switch interchange, we will changed in factory according to your country)

Front Panel Switch

Emergency Stop

Limit Switch Enable/Disable

Power ON/ OFF

Spindle Speed control

Limit Switch Connector

Yes, support up to 6 limit switch

Motor Connector

Paraellel Port

Motor Connector

X, Y, Z, Spindle Motor

Support Control Software

Mach3,EMC2 (Setting on Mach3 will be provided after purchase)




The software is not include, it is a shareware that you can download / purchase from

Thermal Control

24V Fan for cooling

Regulated Power Supply

Spindle Motor: 800W water cooling spindle, drive by JY800 (Variable frequency Driver)

Stepper Controller: 24V 10A 240W




Weight: 200Kg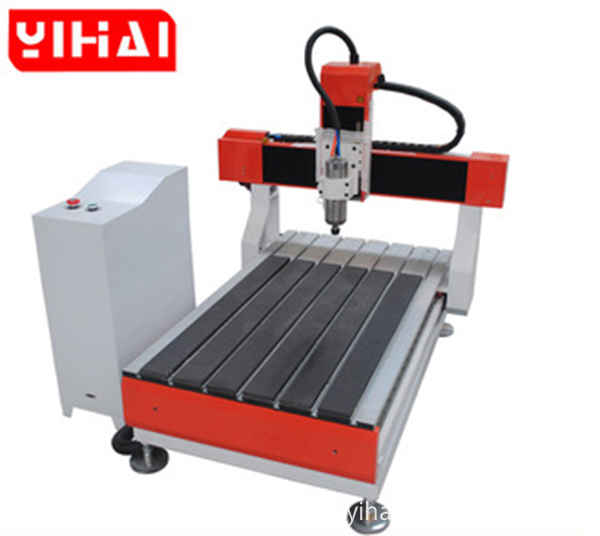 First Installation in 45 minutes:
1.Assembling CNC (Separated to 2 part for shipping, just screw up 4 screws then can be OK)
and locating the CNC machine on stable desk.
2.Make sure that your computer has a on-board parallel port output.
3. Install control software and Drive such as the MACH 3 or EMC2 (You can search easy in Google)
4.Connect the X, Y, Z and Limit Switch socket from machine to CNC controller, connect power cord (We have already set the right voltage according your country). Connect parallel port from
5. Install the water cooling system and fill with coolant water.
6. Follow our instruction on the MACH3 setting.
P.S:
There will have two kinds of control software for you reference
One is popular Mach3 and another is stable Ncstudio system.
Before you place the order please contact us and let us know which type softare you prefer
Package include the following items:
1) CNC YH6090 machine, FULL
2) SOFTWARE MACH3
3) Std accessory - 5pcs drill bits and wrench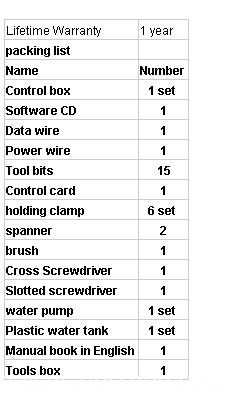 Payment
Shipping
We ship to international and item will be shipped by airmail from China

Items are shipped within 2-3 business day after receive cleared payment.

An additional

USD 8

for insurance

Most item will arrive within 8-14 business days. It depend on your location. In some case, ship to some countries will take over 3 weeks, especially brazil, Italy and France .
After machine finished , our engineer will detailed inspection and evaluation.
We will reply you within 24hours