Product Description
1325 CNC Router Machine for Wood,MDF with T-slot & Vacuum table
Performance Features:
♦With hard steel structure, fit for hard wood working, like cutting and engraving on rosewood for furniture, indoor decoration.
♦With the Vacuum holding way and dust collector, the machine is qualified for mass-producing of furniture.
♦We use the best quality parts for the CNC routers.
♦The machine`s body is strong, rigid, high precision, reliable and durable.
♦Imported high precision ball screw gap, smooth movement, to ensure that the machine tools high-precision.
♦ Wellknown domestic brands of water cooling brushless spindle, low noise, strong cutting ability, to ensure the long time working.
♦High-performance driven motor to ensure that the machine high speed and accuracy.
♦Designer perfectly, select the best machine accessories, to minimize the failure rate preferred.
Parameter:
X,Y,Z Working Area

1300*2500*200mm

Color

Optional

X,Y,Z Traveling Positioning Accuracy

±0.03/300mm

Lathe Structure

Thickness steel

X, Y Structure

Gear pinion

Shaft Linear Bearings

Z Structure

Ball Screw,

Shaft Linear Bearings

Max. Consume power

5.0Kw

Max. Speed

0-32000mm/min

Max. Working Speed

0-20000mm/min

Spindle Power Motor

3.0KW Chinese water-cooling spindle

Spindle Speed

0-24000RPM

Working Mode

Stepper

Working Voltage

AC220V/50/60Hz,1PH

(Option: 380V,3PH)

Command

G Code, *uoo, *mmg, *plt

Operating System

DSP System (Option: Mach3 PC Software)

Interface

USB

Flash Memory

32M

Collet

ER20

X,Y Working Delicacy

<0.01mm

Software

Ucancam software, Artcam software, Option

Running circumstance

Temperature: 0°C~45°C

Relative humidity: 30%~75%

Packing Size

310*195*140cm

Net Weight

1200KG

Gross Weight

1450KGS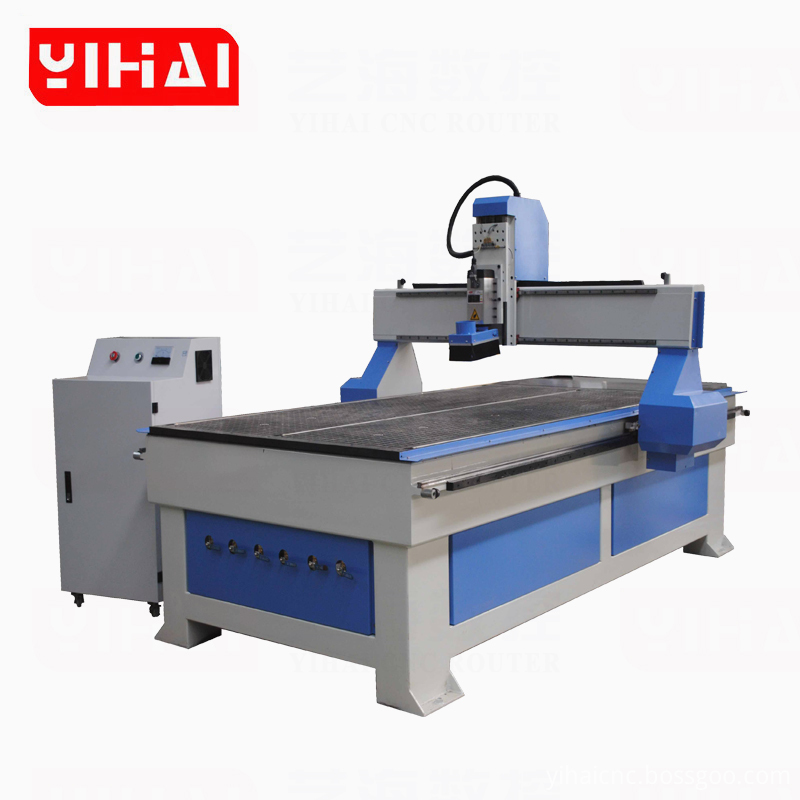 Applicable:
a,Woodworking industry: wood,door,furniture,cup board,table..
b,Advertising industry:logo,double color board,acrylic cutting...
c,Die industry:sculpture of copper,aluminium,iron and other metal molds...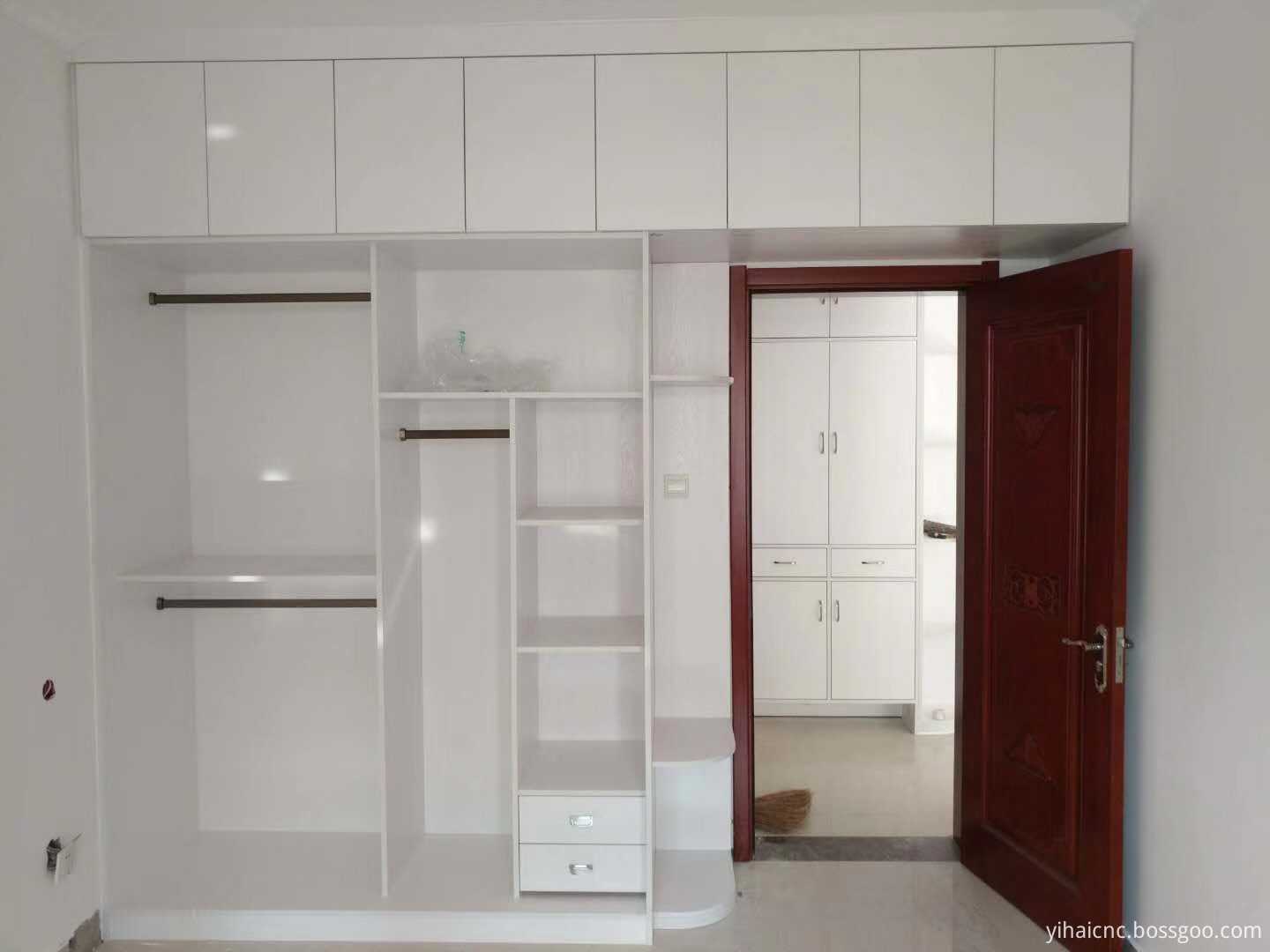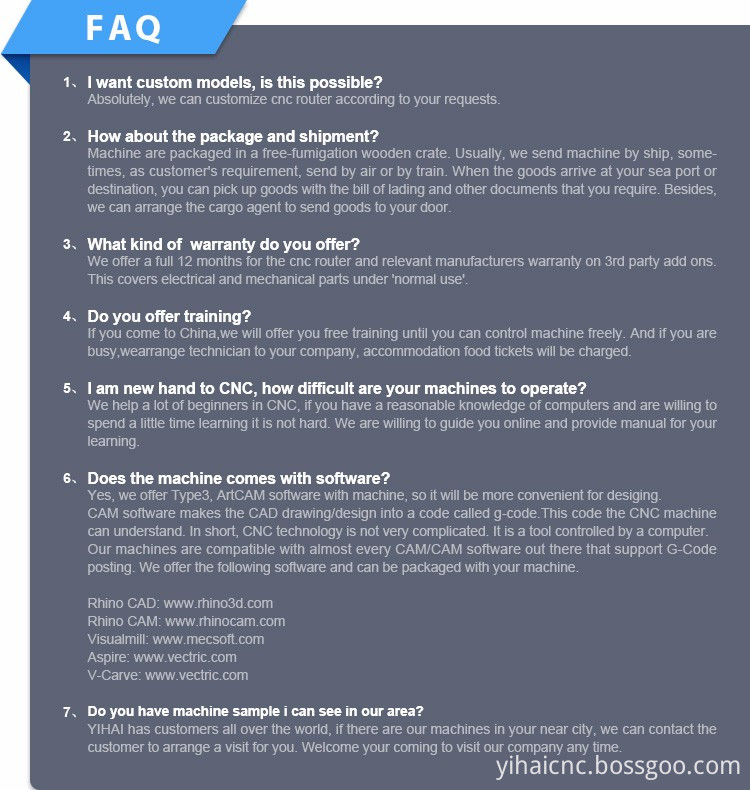 8. What is CNC routing?
CNC Routing is a manufacturing process by which a router is controlled by a computer to cut a sheet of material. CNC stands for computer numerical control. Computer conrolled movement of the machine is based on the Cartesian coordinate system (X, Y, Z) allowing for three dimensional shaping.
A CNC router is similar to a plotter which moves a pen across a surface along the X and Y axes to create a drawing. But a CNC router moves a cutting tool across a large table along the X and Y axes as well as up and down along the Z axis. This allows the router to create pocket cuts into the material.
The cutting tool looks like a drill bit, but unlike a drill bit a router is designed to cut from the sides as well as the tip. The router, also referred to as a spindle, is the motor that spins the cutter.
9. How much does it cost to use?
There is no cost to use the machine. However, you are responsible for supplying your own materials. Occasionally we require users to purchase their own router bits, depending on how much routing is to be done and the type of material.
10. How long will my CNC order take to arrive?
CNC orders will generally be made within one to two weeks.
Shipping cThe cost is determined by the complexity of your design and the material type and thickness you`ve chosen.
The CNC cuts materials at a range of speeds and as a rule it takes longer to cut thicker materials. As a general rule of thumb, the more lines your design has, the more it will cost to make.
11.How many years have you been in business?
We are manufacturer,specialize in this fields for many years. YIHAI has engineered and manufactured quality machines since 2000.
12.Can I put a different table on my machine?
Yes! We opted for MDF as a good basic table that is flat and very inexpensive to replace. It just bolts to the upper surface of the machine base. As is the case with many routing operations, the cutter may extend through the workpiece into the table`s surface. It is because of this that most users prefer to attach an inexpensive table surface as a spoil board to be thrown away when used up.
13. I'm new to CNC, can you assist me a bit if i need it?
Sure, we are always just an email or phone call away. Our e-mail is monitored closely and you will receive an answer to your question in prompt order. We offer training, we will assist you in making your CNC machining experience a success. There is a wealth of information on the web. There are instructional videos available for download as well as an reference manual.
14. What is G-code?
G-code is essentially a standard machine language whereby NIST standard G commands are given and interpreted by the CNC controller. Below is a basic run down of how a part is drawn and the subsequent code is produced.